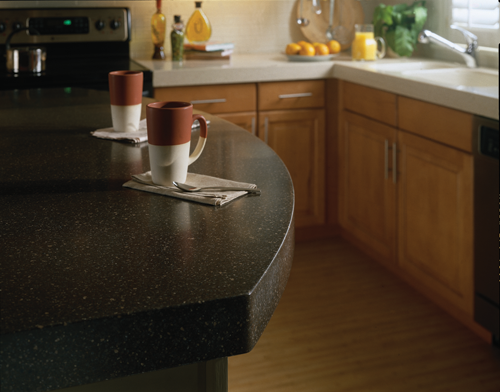 Counterfitters is a leading retail supplier and installer of custom countertops, custom furniture, and bathroom surrounds. We invite you to explore our site to see our extensive experience in unique custom countertop design, and to learn about our wide variety of countertop and backsplash products. Our goal is to provide you, our customer, with a variety of products, designs, and colors so that you will be able to choose the style that best suits your home and your needs.
We specialize in the best custom countertops in Ohio. Our designs can accommodate the most unique requests, and we enjoy working with you to create the beautiful countertops and backsplashes that you desire for your home.
We enjoy using our skills to create something beautiful, such as custom granite or Dupont Corian ® countertops for a new home or even a home remodeling project. At Counterfitters, we love what we do. To us, there is nothing more satisfying than having you as a proud and happy customer. Since we are a direct seller, we're able to save you money on our products and services, which we offer at a great value every day.
Why does Counterfitters have the best custom
countertops in Ohio?
Counterfitters is built upon the base of a competent team of specialists, and is held together with a commitment to excellence in design, impeccable installation of kitchen countertops and other residential applications, and the satisfaction of every customer. We firmly believe that these foundations set us apart as a business, and allow us to serve you better.
After completing hundreds of installations, we have earned a reputation for providing each of our clients with exceptional workmanship, timely delivery, professional installation and very competitive pricing.
Give Counterfitters a call to find out more information on the best custom countertops in Ohio! See what we can do by stopping by and discussing custom countertop options, viewing our samples and designs, and beginning to plan the custom countertops of your dreams!